Mt Eisenhower – 4761′
via Edmunds Path
GPS read: 6.12 miles round trip


This hike was Emily's annual 4K peak.


Weather Conditions were warm and overcast.  The forecast called for pottential thunder storms.  Going above tree line with that kind of forecast is kind of like playing with fire, but thankfully the storms held off until an hour after we got back to the trailhead.  Temps were the warmest I've have ever encountered on a Presidential Summit.  The summit of Eisenhower was pretty but we didn't stay long due to some obnoxious guys hanging out.  One of them is in the summit pic.


On the way up we passed a couple carrying a flag and flag pole.  He had the flag pole strapped to his back in two pieces like we would carry skis, from far away I thought they were .  I asked them what they were doing and he said that: Every year on the Saturday before 9/11 they set up a Flag on every one of the Presidentials as a memorial.  I thought that was neat.
Red Pond, the small pond in the Col of Mt Eisenhower was almost completly dried up


This is how it normally looks.   (Pic From hikethewhites.com)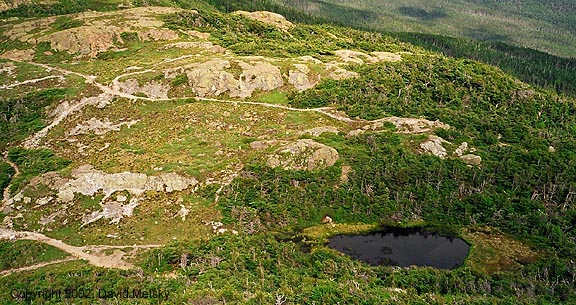 We definitely need rain up here in NH.  In some parts of the state no rain has fallen in a month.
Heres some othe pics from above treeline.  I can't wait until its all white!


The Edmunds Path is a pretty easy trail (It looked completely skinnable with enough snow).  Its only about 3 miles to the jct with the Crawford path at Red Pond, the first 3/4 mile is practically flat. Then from the jct  its not very far to the summit, less than 1/2 a mile.  Distance wise its very similar to a 5k.
I leave for Fort Worth monday morning for a training seminar and I wont be back until Thursday.  Hopefully I can find some adventure while in Texas.